The discipline of user experience design is quite futuristic and offers great job options. Nearly all business types and brands employ UX Designer in India.
But what exactly is UX Designer in India?
UX design is essentially the art of developing real-world and digital products that facilitate meaningful user experiences.
Companies like Zomato, Uber, Make My Trip, and others make significant investments in user experience (UX) design in order to offer their customers well-designed, user-friendly apps and websites.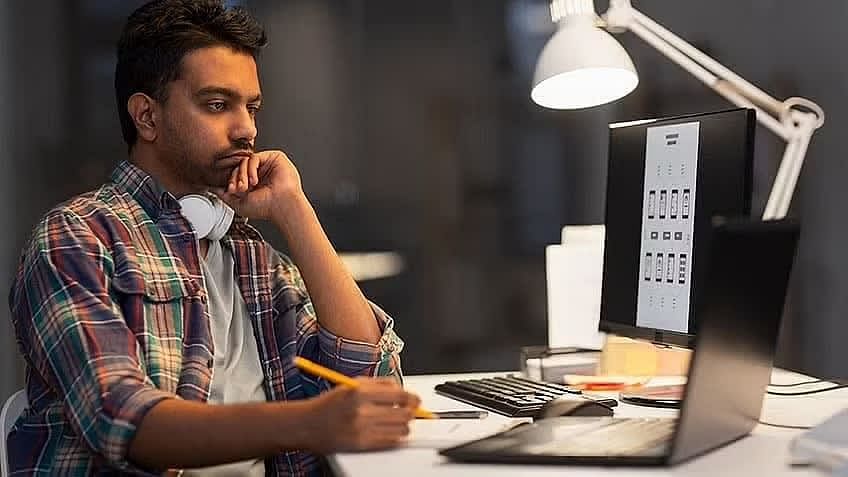 The following abilities are required to be a successful UX designer:
Communication and interpersonal skills: Many different types of businesses use UX designers. You might be employed by a large corporation or a promising start-up. In either case, it is crucial that you have the ability to collaborate with others. In order to be able to work in any environment and with any number of people during your career as a UX designer, you must enhance your interpersonal and communication abilities.
Critical Analysis: Another crucial ability you must cultivate to become a proficient UX designer is critical thinking. You should be able to conceptualize, examine, and assess useful information learned through witnessing a brand's ultimate objective. To achieve better outcomes over time, you must make the effort to create a good mental process that makes you think more quickly.
Making wireframe prototypes: Wireframes and prototypes are two things that UX designers are expected to excel at making. A UX designer is led by wireframes through a specific app or website, acting as blueprints. Designers utilize prototypes to analyze the overall functionality of a given system and its intended audience. To advance in the field and advance their careers, UX designers need to develop this ability as much as they can.
UI/UX Writing: The language used to communicate with the user during the design process is known as UX writing. It has a significant impact on how simple and effective an app or website is for end users to use. Writing for user experience might take the shape of directions or messages provided to the user. Effective UX writing is a major teaching point at several of Maharashtra's best universities for user experience design.
User Research: Another crucial element of UX design is user testing. It permits you to comprehend how users will react to the design you have produced. To get input on a design from test users, user testing is conducted. The design is then tweaked to make it more user-interactive using the input. To ensure that the design you produce receives the fewest possible unfavorable ratings, you must pay close attention to user testing.
Analytical and Research Skills: For UX design to provide well-rounded final products, research is required. US designers are in charge of choosing a variety of options for their product. It is always advisable to support your choices with thorough, research-based data. To make informed selections, you will need to conduct thorough research on the product, the target market, their demographics, socioeconomic circumstances, and other relevant variables.
Basic understanding of coding: Although coding is not a significant component of UX design, it is always preferable to have a fundamental understanding of coding to better comprehend the industry. Companies seeking knowledgeable experts to join their team choose tech-savvy designers. Coding can also enable you to communicate more effectively with the team's engineers and gain a deeper understanding of the framework supporting the product.
Display of Information: Visual communication refers to how a design conveys to the user the brand's message. This general word covers the product's layout, color scheme, icon positioning, image usage, design theory, and typography. These elements together can result in a finished good that is well-rounded and beneficial to enterprises.
User Compassion: Being empathetic is a key quality of a UX designer. You ought should be able to put yourself in the shoes of your end user at this point. Only after that can you evaluate the product from the user's point of view and make the necessary improvements. A large part of any UX designer's job is developing people skills. Throughout your career, developing empathy will help you produce interesting and memorable designs.
Desire to Discover More: You can achieve significant success in the field of UX design by continually being open to learning. To produce superior items, you must be willing to broaden your knowledge and professional expertise. In the end, it is your responsibility to use your products to improve people's lives. Make it a point to learn something new every day.
Conclusion
There is a lot of room for growth in the wide and developing subject of UX Designer in India. The length of the UX design course will vary depending on the type of curriculum you choose.
In general, undergraduate degree programs last four years, whereas postgraduate programs are two years long. Whatever college you pick, make sure it has an industry-focused curriculum and 100% placement aid. Lucky you!
Also Read:
Career Scope of Studying B.Sc Computers in India
Feel free to get in touch with our team for more information. You can contact us by calling our number +91 73065 85290 or mail us at info@stanfordstudyabroad.in